13 Best Free and Paid Keyword Research Tools For SEO In 2023 (Compared): There are many excellent keyword research tools on the market, both free and paid.
The Keyword Research Tool is an SEO tool that allows you to search for keywords and queries that are being searched for mainly around the world on search engines.
The purpose and importance of keyword research is to find keyword candidates so that you can develop a content marketing strategy for your website, aiming to create content that ranks high on Google, or planning search engine marketing advertising. It is to be able to.
The advantage of these tools is that they allow users to get important information such as search volume, CPC, PPC competition, keyword difficulty, related keywords, long tail keywords and trends.
Table of Contents
Why Use The Paid Keyword Research Tools?
Using paid keyword research tools offers several advantages:
Comprehensive Data: Paid tools provide access to extensive keyword data, including search volume, competition, trends, and related keywords. This comprehensive information allows for more accurate and informed keyword selection.
Advanced Features: Paid tools often offer advanced features like competitor analysis, keyword difficulty assessment, and content optimization recommendations. These features help optimize your SEO strategy and improve your keyword targeting.
Enhanced Accuracy: Paid tools tend to have more reliable and accurate data compared to free tools. This ensures that you are basing your keyword research on precise and up-to-date information, leading to better results.
Time and Efficiency: Paid tools streamline the keyword research process by automating tasks, providing keyword suggestions, and offering intuitive interfaces. This saves time and allows you to focus on other aspects of your SEO campaign.
Customer Support: Paid tools usually come with customer support, offering assistance and guidance whenever you encounter issues or have questions. This level of support can be valuable, especially for those new to keyword research or SEO.
While free keyword research tools can provide basic insights, investing in paid tools can significantly enhance your keyword research capabilities, leading to more effective SEO strategies and better overall results.
13 Best Free and Paid Keyword Research Tools For SEO
If you want to do keyword research for SEO of your blog or website in a quick and better way, then you have to take a good premium tools. We have given the Free and Paid Keyword Research Tools here for you. All these tools have been tested by our team first and we have included them in our list:
1. LongTailPro Paid Keyword Research Tool
Long tail pro most trusted SEO Tool for Marketing Professionals, SEO Consultants, Affiliate Marketers & Agencies. Find Less Competitive Keywords, Audit your website for broken links and content, Determine Keyword Profitability with Rank Value, Reflect the most effective method in Google Organic Listings and more. Discover Long Tail Pro Keywords in Minutes to rank your site high in Google Search Results
2. SEMRUSH
SEMRUSH is another popular paid keyword research tool that offers a 14-day free trial. The SEMRUSH Keyword Research Tool is a powerful and versatile tool that can be used for many purposes, providing data on competitive keywords, similar keyword analysis, organic traffic, paid traffic, SEO content analysis tools and more. It is especially useful for high-volume keyword searches to drive traffic to your website or blog. This paid tool offers to find keywords related to a specific industry or niche.
3. Ahrefs
Ahrefs is a paid keyword research tool that offers a 7-day trial for $7. Packed with features like keyword explorer, competitor analysis, position tracking, and more. Ahrefs has become popular because it allows you to see any website's backlinks and other data. This makes it a valuable research tool in the market for SEO analysis as well. Additionally, Ahrefs offers a variety of features and options, making it a versatile tool for website owners and online marketers.
4. KWFinder
KWfinder is a keyword research tool for users to find popular keywords suitable for their website or online business. KWFinder is a great free keyword research tool that provides search volume and CPC data. Suggest data-driven keyword rankings to users based on real-time search engine data. KWfinder also has many other features such as competitor analysis and keyword difficulty scores.
5. Writerzen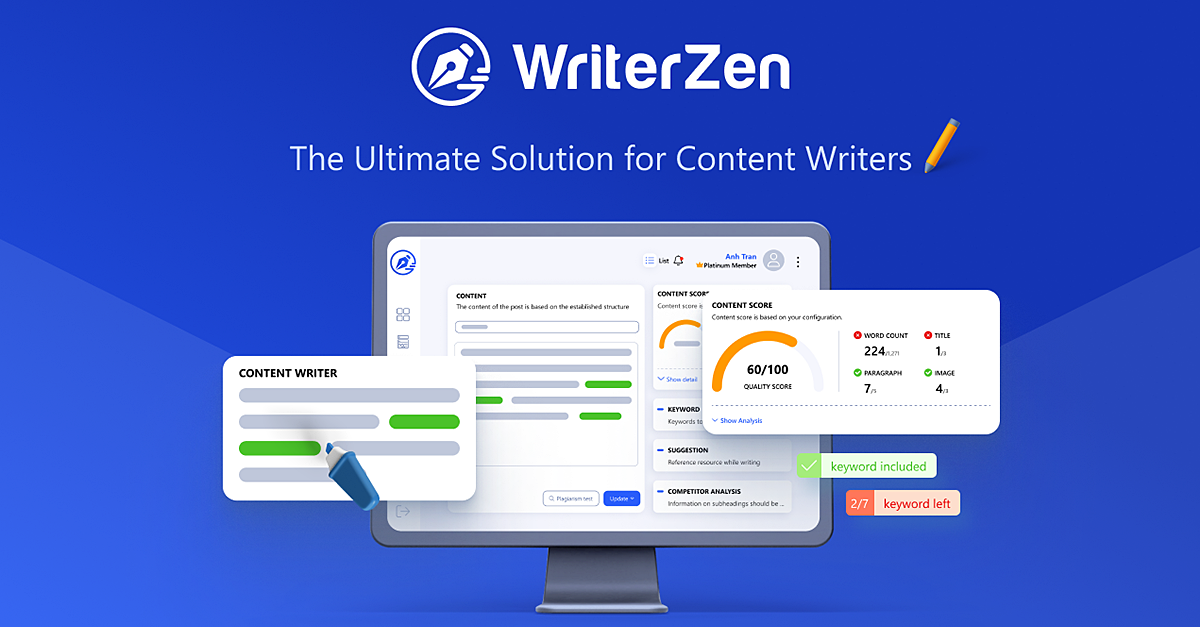 Writerzen will help you determine the best keywords to use on your site and content to attract the attention of searchers. This tool helps you research suitable keywords and phrases for your website, blog posts and social media updates. It can also be used to research the keywords your competitors are using to see what terms they are targeting.
Writerzen's keyword research is loaded with wildcards, allowing you to extend your search by using the * symbol, and the tool will output a full keyword list with more word combinations than a normal search. It looks like
Writerzen also helps you create secondary content that supports the main page content by setting up groups of related keywords based on specific keywords, so if you are serious about SEO, It's the perfect tool.
6. Ubersuggest (Freemium)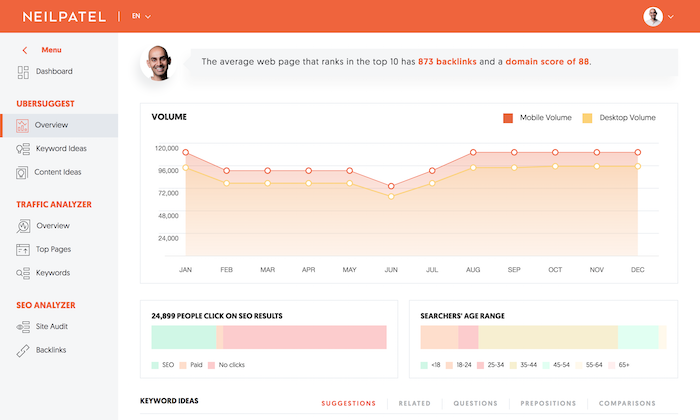 Ubersuggest is a freemium online marketing tool that provides users with keyword suggestions and traffic estimates. It's a great way to discover new keywords and understand how your website is performing. Our free SEO keyword research tool only allows 3 keyword searches. The paid version removes this limitation, allowing for a broader keyword list and multiple searches.
7. AnswerThePublic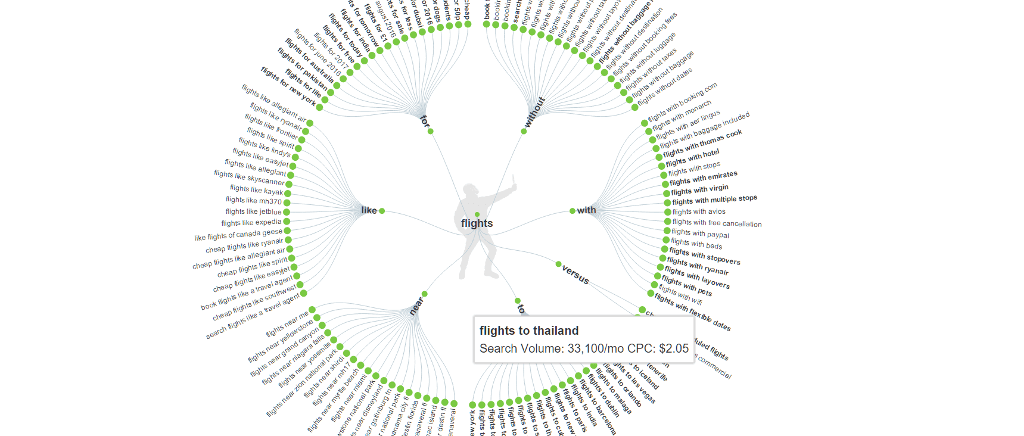 This tool will search all types of questions that are formed by your one word. This tool is also free and gives you paid service. But we have told you this because it gives you very good keyword searches even for free. If you want to use its paid tool, you can.
We tell you that if you use the Keywords Everywhere extension, then you will also show search volume, competition, and CPC. Which will make it easier for you to find a good keyword.
8. Google Search Console
Google Search Console itself is not a keyword research tool, but it helps webmasters get their websites indexed on Google. GSC, like Google Analytics, records metrics generated by the number of clicks on pages displayed for a particular keyword in a search engine.
Google Search Console is available for free, and when your website pages start showing up in search engines, you'll eventually see search results for a few keywords.
This can also be a great way to generate keyword ideas. Some pages may start ranking for other keywords related to the main topic, but they may appear lower as they are not the purpose of your page.
With GSC, you'll ultimately be able to develop an SEO analysis that will help your content marketing strategy and check which of your target keywords are worthwhile.
9. Google Keyword Planner
Google AdWords Keyword Planner is a free tool that helps you research and discover the best keywords for your website. It can also be used to see how many PPC exist for a particular keyword and how many searches are done each month.
A free tool from Google that allows you to research keywords for your website or blog. With it, you can start by creating a keyword idea list for free to further plan your content marketing strategy.
Google Keyword Planner is primarily intended to help you plan your Google ads, but some SEO professionals use it to get keyword data for free.
To use Google Keyword Planner, simply enter your keywords into the planner and it will return results based on monthly search volume and competition.
10. Keywords Everywhere
Keywords Everywhere are the best free a keyword research tool, this is an extension of Google Chrome, which you will have to install in your Google Chrome browser.
This tool will help you a lot to find a good keyword because it will show you the search volume, competition, and how much CPC google ad you will get on that keyword together.
This tool will show you search volume, CPC, competition, if you find a keyword in Google search box, keywords found in Google Trends, and anywhere else.
11. Keyword Shitter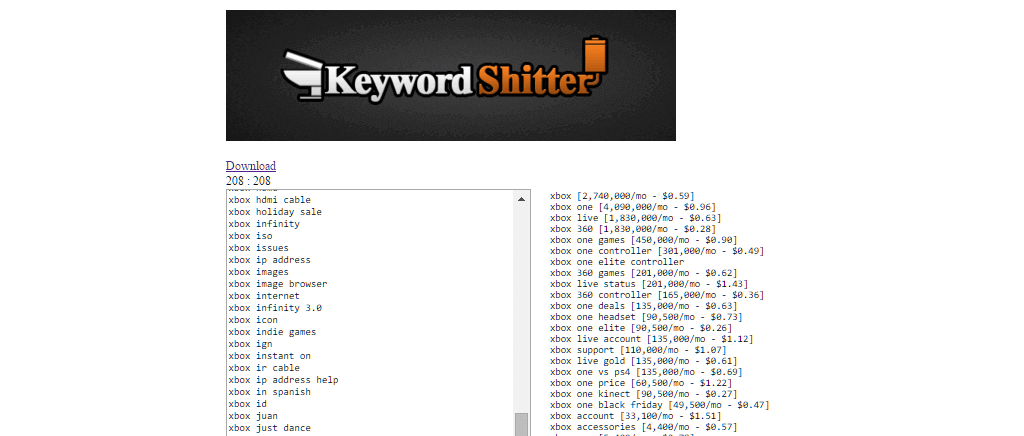 Keyword Shitter tool is a very fast keyword research tool that gives you a lot of keywords search once you search. It can give you a lot of ideas on a single word. Once you search, it will keep searching when you do not close it yourself.
With this tool, if you use Keywords Everywhere, then you will also show search volume, competition, and CPC. This tool has changed its look and changed its privacy policy some time ago, to use it, you must first register on it now.
So far this tool is free. But if it gets paid later, then we cannot say anything about this tool.
12. keyword keg

keyword keg is a very good tool that gives you search volume, competition, and many other types of information like CPC. But let us tell you that this tool is paid, so you will be able to see only a few limited keywords in it. That is, you have to buy it to see all the keywords.
I will not ask you to buy it because of the keywords you will get in its free plan if you search on them properly in other tools, you will get a very low competition keyword which will have a good search volume.
13. Wordtracker Scout
Wordtracker Scout is a free Google Chrome browser extension that you need to install first in your Google Chrome browser, after that, you can use it.

This tool will give information about the search volume and CPC of the keywords you have searched in a search engine. This will show you many keywords at once. That is, it will give you a big keyword data.
This tool is very easy to use, with the help of this you can quickly find keywords, that is, it will save your time too.
Ultimately, it's all about generating traffic from Google and search engines, generating brand awareness, leads and conversions, so it's up to you to decide which tool works best for you.
Is It Better To Use Only Google Keyword Planner Than Other Paid Keyword Tools For SEO To Find New Keywords?
There is no clear answer as to whether it is better to use Google Keyword Planner or other paid keyword tools for SEO. Both have advantages and disadvantages. Google Keyword Planner is free and easy to use, but other keyword tools may have more features and options for finding the right keywords to target.
Conclusion
These were some of the tools that we can use for keyword research for free. And if we find any other good keyword tool, we will add that too. If you have information about any tool, then you can comment on it.
FAQ's On Free & Paid Best Keyword Research Tools
What is the best tool for SEO keyword research?
The best tool for SEO keyword research is subjective, but popular options include LongTailPro, SEMrush, Ahrefs, and Moz.
What is the free tool for SEO keywords?
Some free tools for SEO keywords are Google Keyword Planner, Ubersuggest, and Keywords Everywhere.
What is Google keyword research tool?
Google Keyword Research Tool, also known as Google Keyword Planner, is a free tool provided by Google that helps users find relevant keywords and estimate their search volume for SEO purposes.
What is keyword research tools in SEO?
Keyword research tools in SEO are tools that help identify and analyze keywords relevant to a website's content, allowing optimization for better search engine rankings.
Which is the Best Keyword Research Tool? (Expert Pick)
After trying all the popular keyword research tools out there, our experts agree that LongTailPro is the best keyword research tool and the #1 SEO toolkit on the market.
If you liked the article, then you must share it and follow us on social media.